Core selling points of Griddle Caddy-TN-019
Hi dear creator,
Glad to show you the selling points!
There are some

 
core points
 

that need to be referenced 
in your interesting ideas.
Hope to provide some inspirations for your creative process, 
cheer up!
1. Compatible with Different Countertops
Not only for 28"/36"/17"/22" Blackstone griddles, the unique mount design matches countertops up to 3.5" thick.

2. Large Capacity
The griddle caddy is larger than the size of a traditional griddle caddy. It has a paper towel holder, 4pcs J-hooks, snap on tool holder. Provide enough storage space for all grill utensils, oil bottles, sauces, seasonings, scrapers, spatulas, etc.

3. High Quality Heavy Metal Materials
The griddle caddy is made of high quality carbon steel, durable, strong bearing capacity, no rust. Reinforced spot welding helps to increase load-bearing capacity. Including many rain holes under this griddle tool holder to keep itself and your griddle accessories dry.

4. Easy Installation 
The installation of the entire griddle caddy accessories only takes 2 minutes. Installed on the wall for storage when not grilling.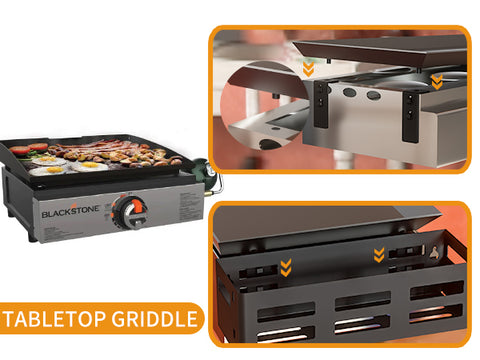 5. More about the product
*Get more
 from Newness TikTok shop by: